Double Grand Champion Zayenah Purrfection
Pet name: Little Purr
Colour: Lilac spotted Silver (OCI cs 24) *carrying cinnamon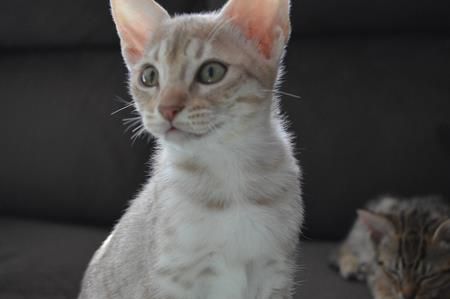 Dam:
Grand Champion Daywalker Sacajawea (blue spotted)
Sire:
Grand Champion Ozspots Dargo (chocolate spotted silver)
Birthdate:
May 24, 2014
Pedigree:
pedigree
Little Purr is inherited PRA normal and PK-Def clear, bred from clear tested parents.
Little Purr was bred from parents tested negative for Tritrichomonas Foetus.
Little Purr is a little sweetheart. We couldn't resist keeping another stunning lilac silver girl, just a gorgeous pinky shade to the coat, we adore the lilacs! And of course Little Purr is a fine example of the breed.
Little Purr had a successful show year in kitten class 2014, finishing up the last show of the year with a 2nd best shorthair kitten placing.
We will continue to show Little Purr in 2015 and look forward to her kittens later in the year. Little Purr gained her Champion title in March 2015, her Grand Champion title in June 2015 and Double Grand Champion title in July 2015.